Accessibility Champion Program
Overview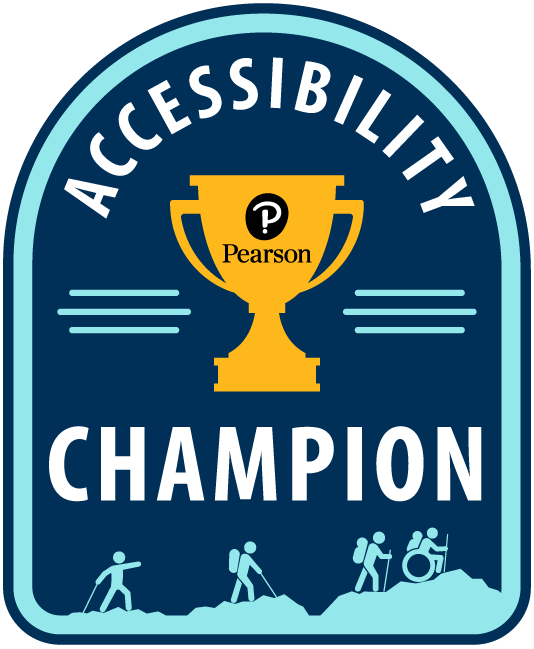 Gaining the skills to deliver accessible products and services is a journey. To help with that journey, we designed the Accessibility Champion Program to increase accessibility skill sets across Pearson. By becoming an Accessibility Champion, you will become a part of a collaborative network of experts who share knowledge to effectively integrate accessibility into products and services.
How it works
The first step in the journey is to register. Registering through the Accessibility Champion Registration Form sets your course toward completing required training and earning badges. Being registered allows you to earn credit for courses you take, track your progress, and collaborate with others who are on the same journey.
Step two is navigating the path to each badge along the journey. The Accessibility Champion program has three levels: Explorer, Scout, and Guide and each level builds on skills learned in the previous level. Requirements for earning badges are unique to each level:
Explorers learn what accessibility is and develop the basic skills needed to understand how the accessibility of products and services impacts customer experience.
Scouts build upon the knowledge learned as an Explorer and move from understanding basic accessibility concepts to implementing accessibility guidelines.
Guides move deeper into accessibility standards and guidelines and become subject-matter experts for their teams.
Step three is joining the Accessibility Champion Teams Community to connect with others who are also on this journey. Through this community, Accessibility Champions can continue to learn by sharing their experiences, asking questions, supporting each other, and staying current with new developments in the accessibility field.